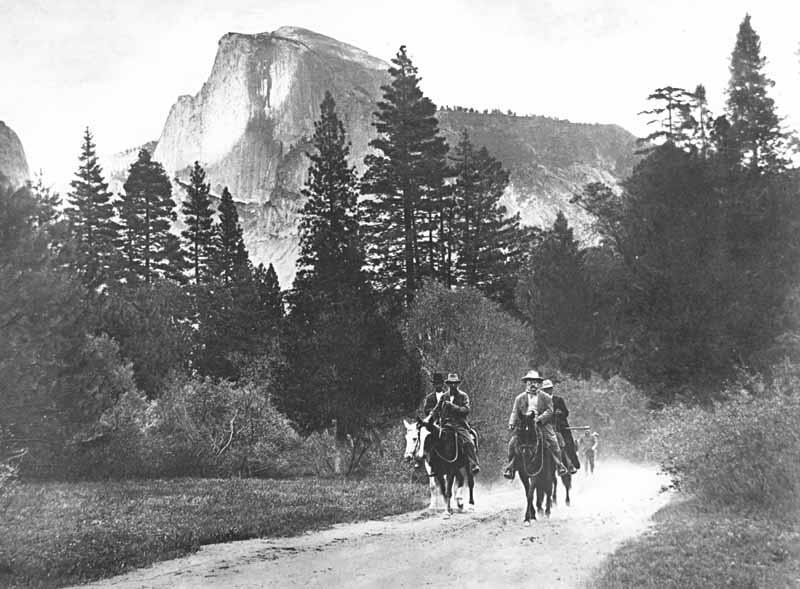 Yosemite National Park is one of the most popular parks in America and visited by over 3.5 million tourists each year who experience the beautiful landscape, waterfalls and steep cliffs of this place. The park is extremely famous among mountain climbers for the 3500 foot vertical granite wall of El Capitan. The park has lot to offer including Rafting in Merced River, Hiking, Professional photography, Biking, Horseback Riding, Skiing and Snowshoeing at Badger Pass and Camping. Yosemite National Park is located about 200 miles east of San Francisco (SFO), about 3 to 4 hours' drive by road.
The spectacular scenery is also very popular for artists and photographers. The best time to see the waterfalls is early summer. Whilst some of the falls are easily accessible; others take more time and effort in order to be able to appreciate their beauty. Those who are looking for precarious challenges can try the Wapama Falls, Vernal Fall and Nevada Fall. The Badger Pass Ski Area has downhill and cross country skiing, snowboarding, and tubing. For the more adventurous, there are backcountry ski tours with the Yosemite Mountaineering School. Rental equipment is also available.
Glacier Point Road: The Glacier Point Road is about 30 miles drive from the visitor center. It opens in late May to closes in November. This road offers one of the most spectacular views from the elevation. People make short stops, take pictures and hiking.
Tioga Pass: The Tioga pass is about 9950 feet high and offers spectacular views of the park. It is accessible only in summers around June-July as this area is at an elevation and gest heavy snow in winters. You can also see some beautiful Wildflowers and sequoias.
Mariposa Grove: The Mariposa Grove is Yosemite's largest grove of giant sequoias. The largest tree, Grizzly Giant, is about 1800 years old.
Half Done: Half Dome is granite dome in Yosemite National Park, located at the eastern end of Yosemite Valley possibly Yosemite's most familiar sight. The granite crest rises more than 4,737 ft. above the valley floor.
Most importantly, when looking for guided tours make sure that activities provided by the tour operator suit your activity level. This will help to ensure that you enjoy yourself and get the most out of your Yosemite experience.
Whether planning your vacation alone or hiring a guide, here are main attractions you should consider adding to your itinerary:
1. Rock Formations
Of all the unparalleled rock formations, Half Dome is arguably the most recognized landmark in Yosemite. This 8,842-foot granite dome, which soars an amazing 4,000 feet about the valley floor, is hard to miss. It was created nearly 90 million years ago and has inspirited artists for more than 150 years. Although not quite as noticeable as the Half Dome, several collections of beautiful and rugged rock formations are scattered throughout Yosemite.
2. Waterfalls
Waterfalls are a must-see in Yosemite and none are more worthy of your time than Yosemite Falls. Three separate waterfalls combined to create this 2,425-foot waterfall. Yosemite Falls is the longest waterfall in all of North America and the fifth longest waterfall in the world. Summer is a wonderful time to see this waterfall because of the rushing runoff water from the melt of mountain snow.
3. Yosemite Valley
Even though Yosemite Valley is accessible by car all year, the best ways to experience this stunning valley is to hike a trail along Mirror Lake, which reflects Half Dome. Yosemite Valley is exceptional because of is extreme depth and short width. The valley its self is only one to two miles long, but the mountains, which create it, are about 3,000 feet high. This combination of rugged cliffs, unusual rock formations, waterfalls, lakes, and lush foliage are truly worth the hike!
4. Giant Sequoia
Created over 3,000 years ago, Giant Sequoias are the largest trees in the world. Imagine a tree so large that it takes 15 people with their arms extended and hands connected to reach around its 300-foot base. These wondrous trees can be found in three separate groves throughout Yosemite, but the largest and most awe-inspiring display of Sequoias is in Mariposa Grove.
Entrance fee in Yosemite National Park is $20 per car and is valid for seven days. You can opt to drive around the park yourself but the management encourages using the free available shuttle buses heading to most popular spots for purposes of ensuring the park remains free of pollution and of course to maintain uniformity and the park's natural charm.
Yosemite also offers a variety of lodging options. The campgrounds are outstanding with electricity at some sites for RV or trailer campers. There are shuttle buses that travel all around the valley so it is very easy to go from the camping areas to the village or other locations.
Stay at the Yosemite Southgate Hotel & Suites in Oakhurst when you travel to Yosemite National Park and get rooms at very affordable rates. For more details visit: http://www.yosemitesouthgate.com/
Read more